Yep, that's right.  My Christmas stocking is this cute clog-bottom fur-trim boot (thanks Mom!).  Fill your shoe lover's stocking with any (or all) of these fun and affordable items this holiday season.
BOOTIGHTS
Tights made specifically for wearing with boots!  Bootights now come in fun patterns and colors, so you can show your personality while remaining cozy and comfy.  See my review ($30-32 at bootights.com)

DIVA DIAMONDZ
Diva Diamondz keep your shoes smelling as nice as they look.  Diva Diamondz contain a powerful volcanic mineral that draws odor and moisture out of shoes. The mineral is also antimicrobial, which means that is fights bacteria and fungus. Simply place a pouch inside each shoe at the end of the day. Overnight the smell and moisture is absorbed into the pouch.  Diva Diamondz purses contain 2 pouches, one for each shoe.  When the diamond starts to smell like your feet, place it in the sun to recharge. You will have to recharge your Diva Diamondz once or twice a year.  ($18.00 at Diva Diamondz.com)
GIFT CARDS
This probably goes without saying, but a gift card to any shoe store is always a great choice!  I really like Bergdorf Goodman's Sole Mates Gift Card.
MANOLO BLAHNIK FOR LIBERTY NOTEBOOK
Keep track of your wishlists and daily to-dos in this shoe fabric-covered notebook (Manolo).
RELAX MISSY FOLDABLE FLATS
Her commute will be so much more stylish and comfortable thanks to Relax Missy foldable flats!  Compact and well-made, these flats are the perfect way to transition perfectly from work to play and they look great as an all-day flat too!  See my review. ($58)
SHOE ORNAMENTS
These are treasures she will keep for years to come, and don't worry, they won't be stashed away until next Christmas if she's anything like me!  I have a few shoe ornaments that adorn my desk and lamp.  A few favorites: 2010 Shoe Christmas Ornaments Set from The Metropolitan Museum of Art Store (pictured here, $125.00), Fashion Avenue Sassy Black & Silver Peep Toe Shoe($3.99), HBO Sex and the City Pink Glass Ball Ornament ($14.99)
SHOETEASE GIFTS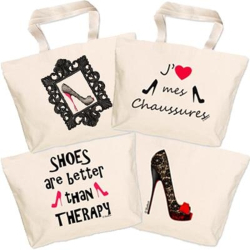 Everything a shoe lover could want, from cute tees to mugs, aprons and tote bags!  Shop Shoe-Tease.com

STIRUPPZ
Stiruppz keep your jeans in their place!  Stiruppz are detachable pant stirrups that are designed to keep your jeans in place so you can keep moving!  They are easy to clip on, won't damage clothing, and are so comfy that you won't even notice they're there.  ($19 at www.stiruppz.com)
(Visited 169 times, 1 visits today)